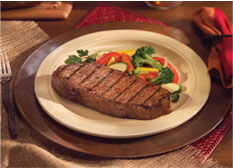 Dill's / Lavonia Foods Meats
We have the great taste of Black Canyon Angus Beef. It is a high quality meat produced right here in the U.S.A. Our meat department also handles only the freshest and highest quality cuts of chicken and pork. Special cuts are our specialty; never hesitate to ask our butchers for a special cut you may need.
We continue to cut our beef and pork daily to offer a fresh product with no solutions to enhance color or shelf life. Our chicken is processed daily at each location to give you the freshest chicken in town. We can cut any thickness of Steaks or Pork that you need at any of our locations.
Thanks for shopping the Dill's/ Lavonia Foods Meat Departments.